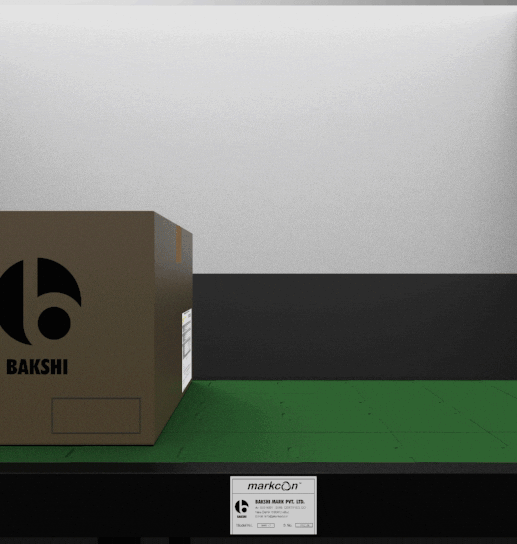 BELT CONVEYOR
Markcon Belt Conveyor System are most commonly used in transportation of bulk material handling, and Conveyor belt is the carrying medium of a belt conveyor system. It is considered a labor saving system that allows large volumes to move rapidly through a process, allowing companies to ship or receive higher volumes with smaller storage space and with less labor expense. Belt conveyors are the most commonly used powered conveyors because they are the most versatile and the least expensive. It is one of the basic tools in material handling industry
Benefits:
Belt Conveyors are durable and reliable
Easy to install & maintain
Cost effective

INCLINE / DECLINE BELT CONVEYORS
Markcon Incline Belt Conveyors are excellent to convey between a mezzanine to multi levels, where an item must be conveyed at an angle. Incline conveyors are ideally suited for food industry, packaging industry. Incline conveyors are most cost-effective solution to take your product to multi-level than Spiral / Vertical Conveyors.  Markcon Incline conveyors can are provided with carriers or high-friction belt material to ensure that the products do not roll down or slide.
Benefits:
Handling efficiency

Decreased material degradation

Faster Throughputs
Easy to install & maintain

Cost effective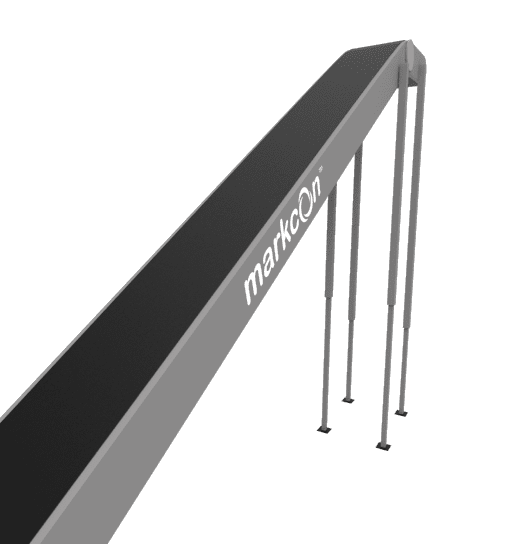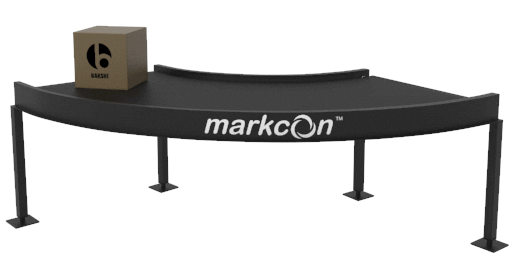 CURVE BELT CONVEYORS (90 DEGREE BELT CONVEYOR)
90 Degree Belt Conveyors are food grade belting, compact dimensions, tight radius, high speed and allows for optimal transfer of small products with compact construction and modular design that's compatible with all other conveyor systems and adept at small or tight transfers. Chain driven roller curve conveyor commonly used in connection with other conveyors in a Conveyor line to carry light/heavy unit loads such as cartons, pallets, crates, cans, drums & etc
Benefits :
Space-Saving
Cost-efficient & Durable
Gentle material transport
Eased system integration
Low Maintenance Cost
Sturdy Construction
SLAT CHAIN CONVEYOR
Markcon Slat Conveyors use slats or aprons mounted on the twin strands of drive chains as the carrying surfaces, ideal for applications like high temperature ovens, heavy-duty goods or other tough conditions. Slats are usually made of engineered plastic, galvanized carbon steel or stainless steel. Markcon Slat Conveyors ensures accurate product orientation and product positioning.
Benefits:
High linear speed

Excellent performance

Sturdy Construction
Gentle material transport

Handling efficiency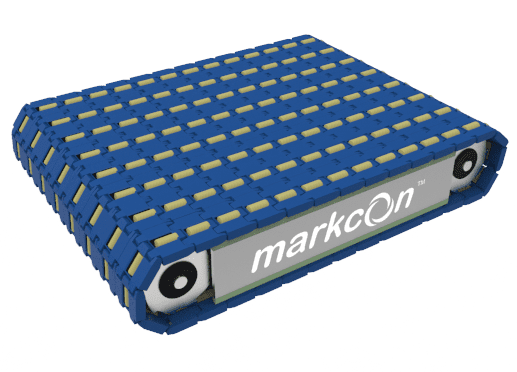 MODULAR BELT CONVEYORS
Modular belt conveyors are a middle ground between belt conveyors and chain conveyors. It is driven by chain sprockets, the base frame of the conveyor is constructed on standard profile supports. Extremely robust and can be used in a multitude of ways for almost every transport application. Our Modular Conveyors ensures accurate product orientation and product positioning even at a speed of 100 Meters/Min. The belts are wear-resistant and can even be used to transport product with sharp edges.
Benefits:
High Speed upto 100 Meters/Min
Gentle material transport
Eased system integration
Excellent performance

Sturdy Construction