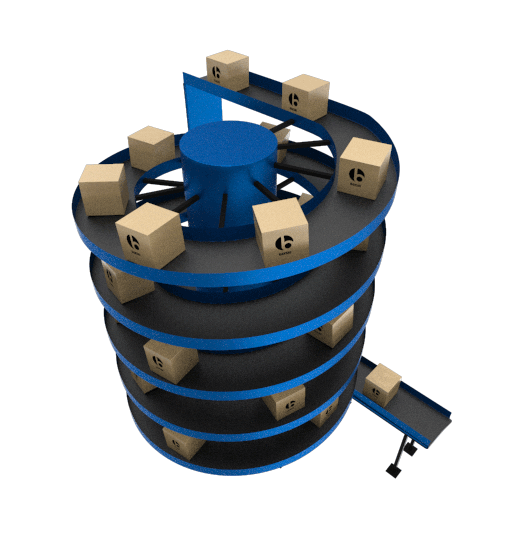 SPIRAL BELT CONVEYOR
A spiral conveyor from Bakshi Mark needs less floor space than conventional conveyors and are also faster and more reliable than any elevator or lift. Which also provided higher throughput transfer loads from level to another level quickly and efficiently, without interrupting the conveying process, without extra manual handling or transfers with a robust design. Variety of infeed and outfeed configurations can be done with it.
Our Spiral Conveyor is an ideal solution for transporting materials like cartons, bottles, boxes, trays, bags and shrink wrapped items to multi-level.
Benefits:
Continuous elevator
Space-saving design
High throughput
Bi-directional
Easy to install
Compact Foot Prints
Low Maintenance and Long life

GRAVITY SPIRAL ROLLER CONVEYOR
Gravity Spiral Roller Conveyor are best suitable for transferring Cartons/ Bags/ Plastic Crates to ground floor. This runs on gravity and hence saves on manpower as well as power. An angle is set to select the inclination and resulting velocity and hence the boxes does not get damaged. This System does not only increase efficiency, but is also designed to conserve valuable floor space. Which comes with low maintenance cost
Benefits:
Zero Power Consumption

Flexible Customization

Low Maintenance and Long Life
Space saving

Reliable Load Capacity

Easy to Install