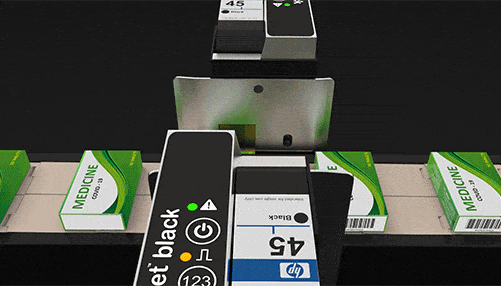 CODING SOLUTION
 Bakshi Mark Pvt. Ltd. (Erstwhile Bakshi Enterprises)  is the most preferred and trusted name in the business of Marking, Coding, Traceability and Conveying. A dedicated team service professional ensures support which qualifies as the best in the industry.
We are manufacturers of Coders (Wet Ink , Hot Ink) & Thermal Inkjet Printers.
Our best selling products Markjet Black Thermal Ink Jet (TIJ)  a German Engineered Printer for Non Stop Coding with a robust design. Which comes with an intelligent ink cartridge with smart card technology developed by Hewlett Packard. Which provides high resolution coding  with No Downtime. It is also ideal for uneven & sensitive products. Markjet Black is compatible with all water and solvent based HP cartridges and print bonding is achieved on all absorbent and semi absorbent surfaces.
We are also OEM Partner to Weber Marking Systems (Markoprint), Germany and have bought complete range of Thermal Inkjet Printers to India.
Coding:
Machines are used for printing, BBE Dates, MFD Dates, GTIN, S.No. Lot No., QR Codes,  2D Codes, Barcodes etc. We also provide complete Track & Trace Solutions, as per the DGFT Compliance & also for Brand Protection.
Contract Coding:
We undertake on & off Site Contract Coding Jobs by employing our own personnel and equipment to print variable data.