ROLLER CONVEYOR
Markcon Roller conveyors are an industrial system designed to transport, accumulate and distribute goods between different points within a warehouse. They can also be used to connect various logistics warehouses or production centers to a company's own warehouses.  Roller Conveyors use parallel rollers mounted in frames to convey product either by gravity/Powerised/Manually. Roller Conveyor are long lasting because of its rugged design and are capable of lifting heavy materials.
Benefits :
Increased production at faster speeds
Manpower Cost Saving
Robust Design
Low Maintenance Cost
Very Reliable, Long-Established Solution
90 DEGREE ROLLER CONVEYOR
Markcon 90 Degree Roller conveyors are an industrial system designed to change the direction of the conveyor line with a 90 degree bend, while keeping the pieces oriented in the same direction relative to the conveyor bed.  Our 90 Degree Roller Conveyors ensures accurate product orientation and product positioning. Our 90 Degree Roller Conveyor has been designed for safe operation and long service life.
Benefits :
High efficiency

Excellent performance

Longer service life

High linear speed

Low Maintenance Cost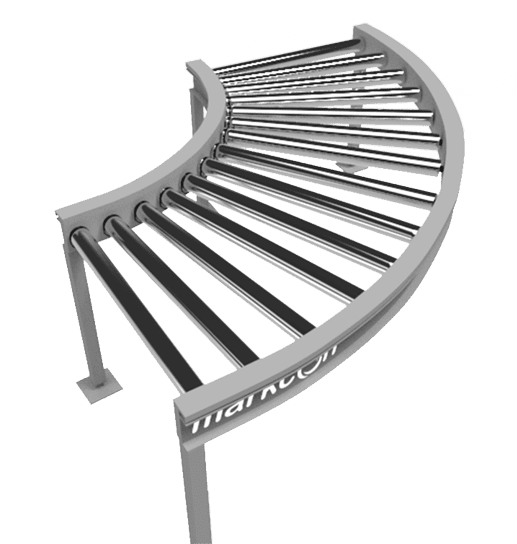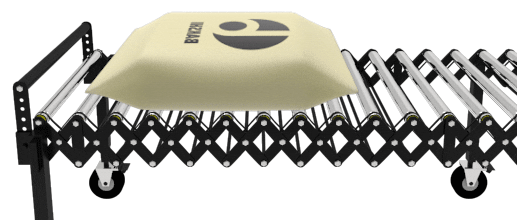 FLEXIBLE POWERISED ROLLER CONVEYOR
Flexible Powerised Roller Conveyor (Extendable Conveyor) by Bakshi Mark is a proven performer for trailer loading and unloading also it can connect to any existing conveyor easily. Ideally suited for packaging, shipping and flexible assembly lines. The main difference is that instead of skate wheels, these utilize a number powerised rollers to the conveyor frame. The main benefit of a Flexible PRC as opposed to Flexible Skate Wheel is that they can convey heavier products and can be moved in any direction. They can be collapsed and stretched easily.  Common uses for Flexible PRC include the handling of Sacks, Bags, Heavy boxes, flat bundles, cartons, crates, trays and totes. 
Benefits:
Flexible PRC are rugged, high performing expanding conveyor systems, designed to flex, extend and expand as needed.

Free from flaws
Easily Handles Heavy Products
GRAVITY SPIRAL ROLLER CONVEYOR
Gravity Spiral Roller Conveyor are best suitable for transferring Cartons/ Bags/ Plastic Crates to ground floor. This runs on gravity and hence saves on manpower as well as power. An angle is set to select the inclination and resulting velocity and hence the boxes does not get damaged. This System does not only increase efficiency, but is also designed to conserve valuable floor space. Which comes with low maintenance cost.
Benefits:
Zero Power Consumption

Flexible Customization

Low Maintenance and Long Life
Space saving

Reliable Load Capacity

Easy to Install